If you are searching for natural ways to boost your reaction time, you are in the right place. You'll discover the 5 best nootropics for reaction time below.
This is for the time when you need to make a split-second decision, maybe to avoid an accident, outwit someone in an argument, or to win a game.
The time it takes for you to react could be the difference between life or death. No pressure, but are you willing to leave reaction time to chance or luck?
Or do you want to enhance your reaction time naturally and live a less stressful life?
That's where nootropics step in. Because clinical studies as well as practical user experience shows us that consistent use of the right nootropic supplements can support a faster reaction time.
This guide looks into the 5 best nootropics capable of elevating your reaction time. We will look at the mechanism of action for each of these nootropic supplements as well as other factors influencing your cognitive performance.
I'll also share some insights on how to take advantage of the full potential of each nootropic. So, let's get started.
Key Takeaways
Nootropics offer potential benefits in cognitive performance and reaction time enhancement.
Sleep quality and physical fitness considerably influence reaction time.
The leading nootropics for reaction time are caffeine, L-Theanine, DHA (Omega-3), and Rhodiola Rosea.
Before using a nootropic for the first time, learn how the supplement works in your brain and body, potential side effects, and if you are using meds consider consulting a medical professional.
What is Reaction Time?
Reaction time is the amount of time it takes for your nervous system to recognize a stimulus and direct your muscles to take action.
In other words, how fast can you "think on your feet" and not get hit by the bus barreling towards you.
The sequence goes like this:
Stimulus hits your senses
The information travels from the sensory neurons to your brain
Your brain processes the information
Your brain sends a signal through your motor neurons to your muscles
Your muscles move to produce the response
Stimulus => Sensory Neuron => Spinal Cord or Brain => Motor Neuron => Response
This entire process takes 180 – 200 milliseconds.[i]
Nootropics for Reaction Time Enhancement
If boosting reaction time is your goal, nootropics can help.
Nootropic supplements can improve cognitive performance, including reaction time. While physical training hones reaction time through coordination and muscle memory, supplementing with nootropics may provide faster results by directly improving cognitive function.[ii]
But let's be honest. If you do not get enough sleep or the quality of your sleep is poor, if you are dealing with anxiety, poor nutrition, or are generally unhealthy, supplementing with nootropics alone will not be enough to significantly increase your reaction time.
Other Ingredients Affecting Reaction Time Performance
To elevate your reaction time, it's essential to understand the roles of sleep quality and physical fitness. A restful sleep and a fit body can fine-tune your neural pathways, facilitating faster cognitive processing.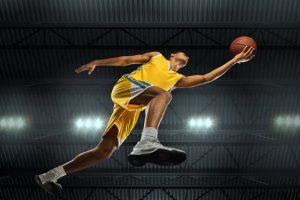 Adequate sleep is essential for optimal reaction time. Research shows the negative impact of sleep deprivation on cognitive function, including quick responses. Studies show human adults need 7-9 hours of quality sleep every night.[iii]
If you need help with sleep, see my article: Best Nootropics for Sleep
Physical fitness also helps fine-tune sharper reaction times. Regular workouts boost brain blood flow, support neurogenesis resulting in new neuron growth, and optimize cognitive performance.[iv]
Activities that work on coordination and faster reflexes, such as martial arts and other physical sports, can further refine reaction times.
For nootropics to help in athletic performance see my article: 6 Best Nootropics for Athletic Performance
Mindfulness meditation has also been shown to benefit improved reaction time performance. Meditation hones focus and attention, enabling quicker reactions to stimuli.[v]
For nootropics to support your meditation practice, see my article: Best Nootropics to Enhance Meditation – Calm Your Mind
The Top 5 Nootropics for Reaction Time Enhancement
Decades of research with nootropics demonstrate quicker reaction times. Clinical research demonstrating the effectiveness of nootropic supplementation have shown encouraging results.
Here's a roundup of the top 5:
Selecting the Optimal Nootropic for Reaction Time Enhancement
To select the ideal nootropic, evaluate your unique needs, weigh the pros and cons, and read the user reviews. User testimonials can offer a glimpse into the real-world efficacy of these supplements.
Also be aware of potential side effects. Nootropics are generally considered non-toxic and safe to use by most healthy adults.  But despite the general safety of these supplements when used following dosage recommendations, some might experience side effects.
And if you are using prescription meds, check and make sure the supplements you are planning on trying are not contraindicated with those meds.
Strategies to Optimize Nootropics' Impact on Reaction Time
To elevate your performance, integrate the following tactics:
Pre-workout Supplements: Choose supplements tailored for reaction time enhancement, containing ingredients like caffeine and creatine such as my favorite pre-workout supplement: Pre Lab Pro®.
Sleep: Prioritize 7-9 hours of quality sleep.
Diet: Ensure a balanced diet replete with antioxidants, omega-3s, and B vitamins.
Mindfulness: Meditation techniques like deep breathing can be transformative.
Also, embrace lifestyle modifications:
Exercise Regularly: This enhances brain blood flow and endorphin release.
Minimize Distractions: Focus is key for tasks demanding swift reactions.
Hydration: Adequate water intake is crucial for cognitive functions.
Brain Exercises: Puzzles and memory games can sharpen cognitive reflexes.
What are the Best Nootropics for Reaction Time?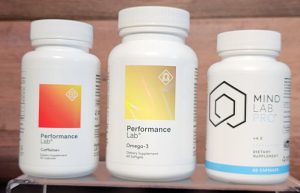 Let me share with you the best nootropics for reaction time and which I have been using every day for the last several years.
Mind Lab Pro® – my favorite pre-made nootropic supplement which I've used daily for the last 6 years increases reaction time. And is the world's bestselling universal nootropic stack. Mind Lab Pro® contains Citicoline, Bacopa Monnieri, Phosphatidylserine (PS), N-Acetyl L-Tyrosine, L-Theanine, Rhodiola Rosea, Maritime Pine Bark Extract, and NutriGenesis® vitamins B6, B9 & B12.
Performance Lab® – Caffeine+ – contains Natural Caffeine (from Coffea Robusta seeds) 50 mg, L-Theanine 100 mg, L-Tyrosine 250 mg, with a balanced NutriGenesis® B-Complex. Remember, the studies earlier in this article showed the combination of caffeine with L-Theanine improved reaction time.
Performance Lab® – Omega-3 – contains 540 mg DHA and 270 mg EPA in 3 NutriGels® from life's™ OMEGA 60 for faster reaction time.
Frequently Asked Questions
Are Nootropics Safe for Reaction Time Enhancement?
Each of the nootropic supplements described in this article are considered non-toxic and safe to use by most people. Of course, each of us can react differently from someone else's reaction to using the same supplement. And always check with your doctor if you are using prescription meds to make sure any supplement you want to try is safe to use with the meds you are on.
Can All Age Groups Use Nootropics?
Nootropics can potentially benefit all age groups, but most clinical trials have been conducted with adults. Parents of any child under 18 years should check with their doctor before starting your kid on a supplement regimen.
What's the Typical Onset Time for Nootropics' Effect on Reaction Time?
The onset varies based on the specific nootropic and dosage. However, you can usually feel the benefits of amino acids such as L-Theanine within the first day or two of using that supplement. Herbs such as Rhodiola Rosea may take several days of daily use before you feel the full benefit of that supplement.
Any Side Effects of Nootropics?
Every nootropic supplement I have reviewed on Nootropics Expert including the supplements detailed in this article may have side effects in some people. Nootropics are considered non-toxic and safe to use but high dosages or combining with certain medications can cause adverse effects. Always read the Side Effects section for each supplement you are considering and if in doubt, check with a medical professional.
Dosage Recommendations for Nootropics?
Specific dosages exist for each nootropic. Recommended dosages for each supplement on Nootropics Expert® are based on clinical studies and what users find effective and safe to use long-term.
Final Thoughts
Nootropics can boost reaction time performance. By influencing neurotransmitter activity and brain functions, these brain enhancers can significantly improve task speed and precision.
Selecting the appropriate nootropic and closely following dosage recommendations is essential.
For best results, consistent and daily nootropic usage can potentially enhance reaction times significantly, so you can live a less stressful life.