You don't have to be rich to experience better cognition, think faster or perform better. You don't even need a prescription for the latest brain enhancing drug.
It's easy to get confused with more and more headlines declaring Adderall or Modafinil a nootropic.
And unless you are aware of how powerful natural nootropic supplements are, and how they differ from a 'smart drug', you'll ask your doctor for a prescription on your next visit.
But at what risk? We'll get into that in this post.
So let's clear this up from that start.
All nootropics are brain enhancers. But not all brain enhancers are nootropics.
This post is intended to help you understand what each brain enhancing smart drug is, why neurohackers use them, the clinical evidence they use to justify their use, and the risks involved in using these drugs.
You also learn which nootropic supplement can be used instead of a smart drug. They're safer, come with far fewer side effects, and for most people can provide a similar benefit.
We have the science to back these claims. And decades of personal and community experience testifying to how well they work.
Cognitive enhancement without the risk. Let's get started …
Smart Drugs List
Adderall
What it is
Adderall is a combination of four salts of which two are types of amphetamines (levoamphetamine & dextroamphetamine).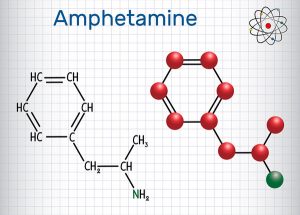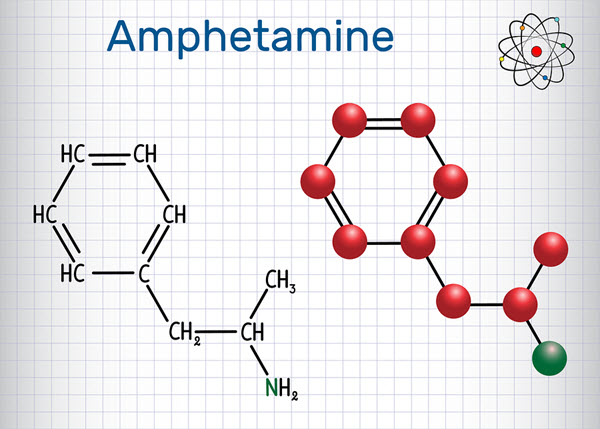 These amphetamines are agonists of TAAR1 (trace amine-associated receptor 1) and interact with the monoamine transporter (VMAT2).
The action of MVAT2 forces the release of more dopamine and norepinephrine from synaptic vesicles. And TAAR1 either stops the transport of these neurotransmitters or transports them out of the neuron.[i]
This increase in activity of dopamine and norepinephrine acts as a central nervous system stimulant.
Why neurohackers use it
Amphetamines including Adderall are considered Schedule I or II drugs or controlled substances in most countries. And are legally purchased with a prescription from a qualified psychiatrist to treat ADHD or narcolepsy.
But Adderall is also commonly used off-label to help you stay alert and focused in high-pressure jobs or as a study aid.
Does it work?
In 2011, researchers at the University of Pennsylvania published a study on the effectiveness of prescription stimulants as "Smart Pills".
The team concluded that stimulants can improve declarative memory and enhance consolidation of memory when used by healthy people. Fewer people experience improvements in executive function and cognitive control.[ii]
The risks
Amphetamines including Adderall can be highly additive particularly if you are prone to addiction.
Long-term, therapeutic dosage of Adderall has been shown to be relatively safe but does come with a host of possible side effects.
Including high blood pressure, reduced blood flow to hands and feet, increased heart rate, erectile dysfunction, stomach pain, appetite loss, nausea, blurred vision, dry mouth, teeth grinding, insomnia, nose bleeds, and more.
But recreational use typically involves far larger doses and significantly more dangerous side effects. World-wide, 5,200 people died from amphetamine abuse in 2016.[iii]
Adderall is approved in the USA by the FDA to treat ADHD or narcolepsy only. It's a Schedule II drug and purchase or possession without a legitimate doctor's prescription can result in being charged with drug possession.
Donepezil (Aricept®)
What it is
Donepezil is an acetylcholinesterase inhibitor used to treat Alzheimer's Disease.
Donepezil works by inhibiting the enzyme responsible for the natural breakdown of acetylcholine (ACh).
Acetylcholine is critical for encoding memories, reasoning, concentration, cognition, and neuroplasticity.
In 2018, Oxford University did a study of clinical trials using donepezil as a treatment for Alzheimer's. The team analyzed 30 studies totaling 8,257 Alzheimer's patients. And found only small benefits to cognitive function for mild, moderate and severe dementia.[iv]
Why neurohackers use it
Some neurohackers use Donepezil for improving memory and concentration on complex tasks.
Does it work?
The FDA in the United States has approved Donepezil for the treatment of Alzheimer's.
And some blogs devoted to the biohacking world claim that we have clinical evidence proving it can used to enhance cognition in healthy people.
But the single study that these bloggers point to has been proven false. We have no clinical evidence that shows Donepezil helps improve memory or concentration in healthy people.[v]
The risks
Donepezil side effects include diarrhea, nausea, vomiting, insomnia, muscle cramps and loss of appetite.
A far better and safer acetylcholinesterase inhibitor and alternative is the nootropic supplement Huperzine-A.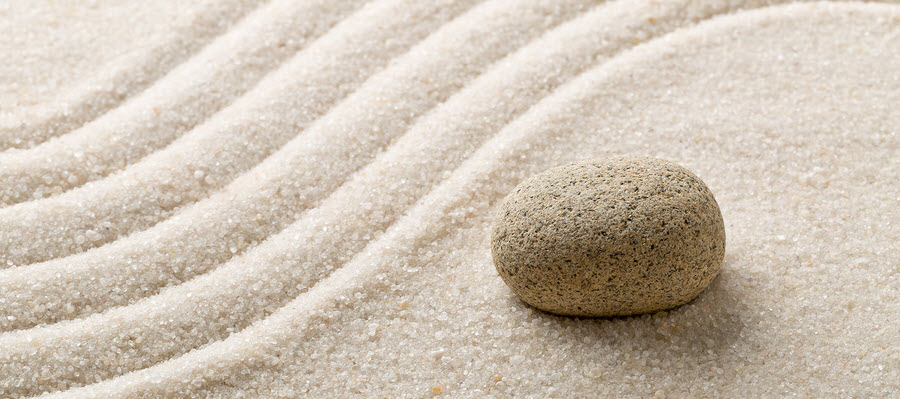 L-Deprenyl (Selegiline)
What it is
L-Deprenyl is a selective MAO-B (monoamine oxidase) inhibitor at lower doses. But in larger doses also inhibits MAO-A.
The enzyme monoamine oxidase breaks down monoamine neurotransmitters including dopamine, epinephrine, norepinephrine, serotonin and melatonin.
MAO-B breaks down only dopamine and phenethylamine. So inhibiting this enzyme prevents the breakdown of dopamine. More dopamine contributes to better memory, attention and focus, faster thinking, less anxiety and an improved mood.
Why neurohackers use it
L-Deprenyl is used primarily as an anti-aging drug. But neurohackers report that long-term use of low-dose (5 mg per day) of L-Deprenyl helps boost mood, energy, and libido in older men. Because it boosts dopamine in your brain.
Does it work?
L-Deprenyl was discovered by Joseph Knoll in the 1960's. And is now registered in more than 60 countries to treat Parkinson's, Alzheimer's, and major depressive disorder.[vi]
Early studies showed the amazing anti-aging benefits of L-Deprenyl. When given to dogs they had twice the survival rate compared to placebo. And mice lived about 200% longer when given L-Deprenyl.
The FDA has approved L-Deprenyl for treating early stage Parkinson's disease. And an expensive skin patch named Emsam® for depression.
The risks
Low-dose L-Deprenyl is considered very safe when used long-term. But side effects can include irritability, insomnia, nausea, and stomach upset.
And you'll likely have a difficult time convincing your doctor to give you a prescription for L-Deprenyl as an anti-aging drug.
Instead, you can use a natural nootropic MAO-B inhibitor like Oat Straw.
Methylphenidate (Ritalin®)
What it is
Methylphenidate is a dopamine and norepinephrine reuptake inhibitor. Which means it binds to and blocks dopamine and norepinephrine transporters. Leading to an increase of these neurotransmitters in your brain.
Methylphenidate acts as a central nervous system stimulant and is a first-line of defense in the treatment of ADHD and narcolepsy.
Methylphenidate exhibits a distinctly different mechanism of action in your brain compared to Adderall (amphetamine).
Methylphenidate functions as a dopamine and norepinephrine reuptake inhibitor while amphetamine is a releasing agent and reuptake inhibitor of dopamine and norepinephrine.[vii]
Why neurohackers use it
Methylphenidate is used off-label by healthy neurohackers to boost alertness and improve focus and memory.
Does it work?
Dozens of studies conducted since the 1950's show Methylphenidate as effective in treating symptoms of ADHD and ADD.[viii] With a good safety profile and relatively minor adverse effects on someone who is clinically ADHD.[ix]
Several studies have been done testing Methylphenidate in healthy people. And at least one study found it better than Modafinil in the enhancement of cognitive performance.[x]
But another meta-analysis of 48 studies including nearly 1,500 healthy participants (not ADHD) said, "we conclude that the effect of amphetamine and methylphenidate on the examined facets of healthy cognition is probably modest overall".[xi]
The risks
Methylphenidate is a scheduled or controlled drug in many countries around the world and only available with a doctor's prescription for treating ADHD or narcolepsy. Possession of this drug without a prescription can be treated as drug crime.
The most common side effects of Methylphenidate include anxiety, irritability, appetite loss, dry mouth, stomach pain, lethargy, dizziness, heart palpitations, blood pressure changes, rapid heart rate, reduced blood flow to hands and feet, blurred vision, dry eyes, depression, confusion and teeth grinding.
Methylphenidate can worsen psychosis in psychotic patients. And mania if you are bipolar.
Some recent studies show Methylphenidate in young people may impair neuroplasticity in the healthy (not ADHD) brain.[xii]
A safer alternative for prescription Methylphenidate in any age category is L-Tyrosine or N-Acetyl L-Tyrosine (NALT) for increasing dopamine in your brain.
Available as a standalone supplement, and in some of the better pre-made nootropic stacks like Mind Lab Pro® or Performance Lab® Mind.
Modafinil (Provigil®)
What it is
Modafinil is a unique dopamine reuptake inhibitor that binds to the same dopamine transporter as cocaine but in a different manner.[xiii] Resulting in a drug with less abuse potential.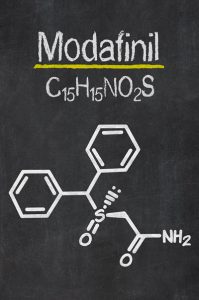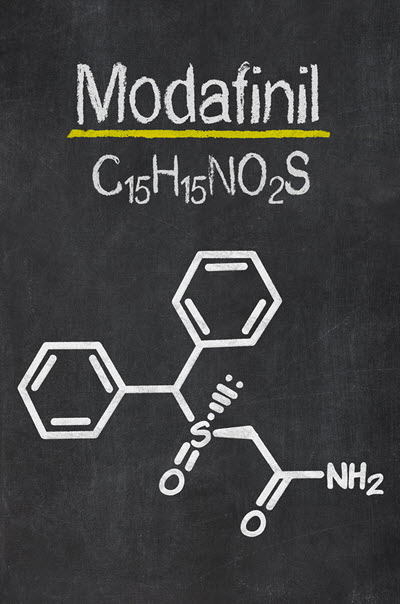 Modafinil is sold under the brand names Provigil® and Nuvigil® as a wake-promoting agent. And is approved by the American FDA for the treatment of narcolepsy, shift work sleep disorder, and obstructive sleep apnea.
Researchers are still trying to figure out how Modafinil works in the brain. So far, animal studies show Modafinil affects the pathways of dopamine, norepinephrine, glutamate, GABA, serotonin and histamine.[xiv]
Some researchers speculate that Modafinil promotes vigilance and neurotransmitter release by enhancing cellular metabolism and reducing free radicals.[xv]
Why neurohackers use it
Neurohackers use Modafinil for alertness, boosting reaction time, motivation and enhancing cognition.
Does it work?
Reports by neurohackers in forums and blog posts praise Modafinil and love how it improves alertness, reaction time, faster thinking and they claim to be more productive.
But what does the science say?
One study published by researchers at Cambridge and Oxford universities showed that 200 mg of Modafinil in healthy volunteers enhanced task enjoyment and performance. It helped in planning and working memory but had no effect on learning.[xvi]
Another team at Harvard conducted a meta-analysis using the keywords "modafinil" AND "cognitive" for MEDLINE studies from January 1990 until December 2014. Investigating the cognitive actions of Modafinil in healthy, non-sleep deprived humans.
The analysis found that Modafinil enhanced attention, executive function and learning. With few side effects or mood changes.[xvii]
Another study with 39 chess players over a total of 3,000 games showed that Modafinil slowed reaction time indicating deeper thinking. Not good when working under time constraints. But using Modafinil did provide an overall increase in players' score.[xviii]
The risks
Modafinil is a controlled drug in most countries and requires a doctor's prescription.
Modafinil side effects during clinical trials report anxiety, headaches, diarrhea, dizziness, nervousness, increased heart rate, perspiration, and stomach problems.
Addiction and dependency seem to be low with Modafinil. But long-term use could result in psychological dependence. Reported withdrawal symptoms after long-term use include anhedonia, anxiety, insomnia and lethargy.
Summary
When leading business magazines like Forbes publish articles about the benefits of ADHD in business.
And the Wall Street Journal equates nootropics with prescription smart drugs, it seems like verification that amphetamines are worth the risk to get ahead in life.
But now you know the risks involved when using these smart drugs.
It's the reason why NootropicsExpert exists. To help you make an informed decision about your health. And live a better and more productive life.
Use natural nootropics to boost dopamine, norepinephrine, serotonin and acetylcholine. And bypass the risk of smart drugs.
For more, see my posts on:
Hacking Motivation with Nootropics
5 Ways Nootropics Can Increase your Success in Business and Life
Scroll through dozens of nootropics that can tame anxiety and depression, boost learning and memory, for OCD, ADHD, PTSD and more here:
An easy way to get started with nootropics and begin feeling the benefits right away, check out my reviews for: