Holy Basil is known for relieving anxiety, boosting mood, improving memory and is a powerful neuroprotectant
Holy Basil (Tulsi, Ocimum sanctum Linn, Ocimum tenuiflorum, Sacred Basil) is member of the mint, or Labiatae family of plants.
Tulsi or "The Incomparable One" is the most sacred plant in the Hindu religion. And has been valued for millennia by Ayurveda, Greek, Roman, Siddha and Unani because of its benefits for mind, body and spirit.
Holy Basil has been traditionally used for anxiety, cough, asthma, diarrhea, fever, dysentery, arthritis, eye diseases, indigestion, hiccups, vomiting, stomach problems, heart health, back pain, skin diseases, ringworm, insect, snake and scorpion bites, and malaria.[i]
As a nootropic supplement, Holy Basil is used primarily to support mood, promote relaxation, and reduce stress.
Here we'll explore how Holy Basil benefits your brain.
Holy Basil helps:
Neurotransmitters: Supplementing with Holy Basil increases levels of dopamine, and serotonin, and reduces epinephrine, norepinephrine, and monoamine oxidase,[ii] and inhibits acetylcholinesterase (AChE) which boosts acetylcholine.[iii]
Anxiety & stress: Holy Basil reduces spikes in cortisol induced by chronic stress.[iv] And is particularly effective in reducing stress caused by loud noise.[v]
Anti-inflammatory: Holy Basil is a potent antioxidant. It's a natural COX-2 inhibitor.[vi] And the compounds including eugenol, cirsilineol, cirsimaritin, isothymusin, isothymonin, apigenin, rosmarinic acid in Holy Basil have been compared to the pain-relieving activity of ibuprofen, naproxen and aspirin.[vii]
Overview
Holy Basil (Tulsi, Ocimum sanctum Linn, Ocimum tenuiflorum) is an aromatic shrub in the basil family (Lamiaceae) that likely originates in north central India and now grows native throughout the eastern tropics.[viii]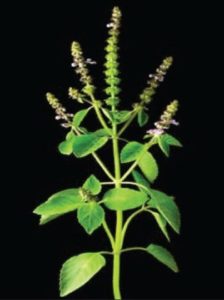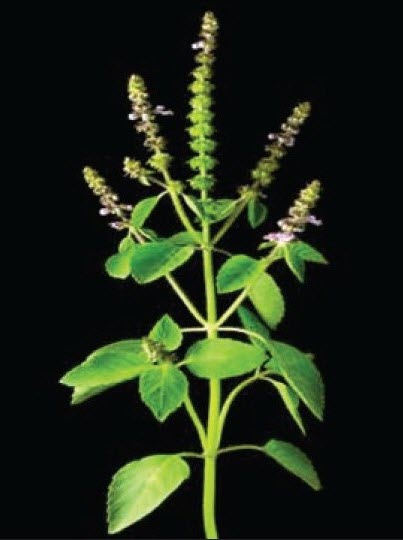 Within Ayurvedic medicine, Holy Basil (Tulsi) is known as "The Incomparable One", "Mother Medicine of Nature", and "The Queen of Herbs".
Holy Basil leaf includes the compounds eugenol, rosmarinic acid, caryophyllene, ursolic and oleanolic acids (triterpenoic acids), carotenoids, Vitamin C, calcium, iron, zinc and chlorophyll.
Research over the last decade shows Holy Basil's therapeutic benefits include use as an adaptogen, for metabolism, immune system support, protection from various forms of radiation, is antimicrobial and antidiabetic.[ix]
When taking an overall, broad view of how Holy Basil works to support human health, studies show this adaptogen can be classified according to 3 main clinical domains; metabolic disorders (15 studies), cognition and mood conditions (4 studies), and immunity and infections (5 studies).
And note that inflammation is the underlying cause across all these health issues.
The anti-inflammatory effects of Holy Basil are attributed to multiple metabolites that act alone and synergistically to inhibit inflammatory pathways.
The Ayurvedic tradition of using Holy Basil daily may be a highly effective way to treat many modern chronic diseases.
How does Holy Basil work in the Brain?
Holy Basil boosts brain health and function in several ways. But two in particular stand out.
Holy Basil protects the brain from chronic loud noise. Exposure to loud noise has been identified as a major environmental threat to public health.
Loud noise exposure, apart from damaging your hearing, is bad news for your heart, endocrine and nervous system.
Loud noise from any source damages DNA, suppresses major neurotransmitters, and weakens your immune system.[x] Holy Basil protects your brain from chronic exposure to loud noise.
Researchers at the University of Madras subjected Wistar albino rats to 100 dB broadband white noise 4 hours daily for 15 days.
The team measured epinephrine, dopamine, norepinephrine and serotonin levels in the rats' brain. And found that 15 days of chronic noise exposure had a significant negative impact on neurotransmitter levels.
The researchers gave the rats Holy Basil extract (70%) and found that this nootropic protected and maintained neurotransmitter levels from noise stress.[xi]
Holy Basil protects and boosts memory. Holy Basil has been shown to be a potent acetylcholinesterase (AChE) inhibitor. AChE is the enzyme that helps break down acetylcholine once it's used in your brain.
But too much acetylcholinesterase (AChE) will suppress acetylcholine which in turn degrades learning and memory. And is particularly prevalent in Alzheimer's and other neurodegenerative disease patients.
A study conducted in Japan had researchers induced dementia in rats. Then acetylcholinesterase (AChE) activity was estimated in several different parts of the rats' brain.
The rats were then given either water-based or alcohol-based extracts of Holy Basil. The researchers found that both extracts of Holy Basil significantly decreased AChE activity in rats.
The researchers concluded that Holy Basil "was shown to be useful for the management of experimentally induced cognitive dysfunction".[xii]
How things go bad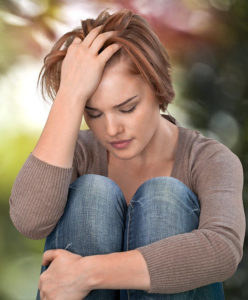 With the exponential development of science and technology, and economic and social competition, the nature of human stress has dramatically changed.
Stress causes changes in brain cell signaling, neurotransmitters, and hormones. When under control, your body is equipped to respond to these stressors in a healthy way.
Your body increases catecholamine neurotransmitters like dopamine and norepinephrine to elevate heart rate and blood pressure. Kicking in your "fight or flight" response.
But when this stress is prolonged or exaggerated, chronic stress hijacks your normal healthy homeostasis and balance.
Stress is now recognized as the cause of 75 – 90% of all human disease.[xiii]
Chronic stress results in:
↓ Chronic inflammation
↓ Cardiovascular disease (high blood pressure, atherosclerosis)
↓ Metabolic disease (diabetes, non-alcoholic liver disease)
↓ Neurodegenerative disease (anxiety, depression, Alzheimer's, Parkinson's)
↓ Cancer
We don't have many options for opting out of our high-stress, warp speed society. We can go on vacation for a couple of weeks, learn how to meditate, and carefully choose our friends.
But we can also use nootropics to help our brain and body cope with and counter the effects of chronic stress.
This is where Holy Basil comes in. It functions as an adaptogen, enhancing your body's ability to cope with physical and mental stress.
Holy Basil benefits
Of all the herbs used in Ayurveda, Holy Basil is the most revered, and recent research is now confirming how it works.
Holy Basil as an adaptogen can help physical, chemical, metabolic and psychological stress through its unique combination of therapeutic actions.
Tulsi can protect your brain and body against industrial pollution, heavy metals, physical stress from strenuous physical exertion, stroke, exposure to cold, and excessive noise.
Holy Basil can normalize blood glucose, blood pressure and high cholesterol. And boost memory and cognition through its anxiolytic properties and antidepressant qualities.
It can protect against human and animal pathogens (antimicrobial), and even be used as a hand sanitizer, mouthwash and water purifier.
Holy Basil protects against toxic chemicals by increasing your body's levels of glutathione. And increasing the activity of antioxidant enzymes like superoxide dismutase and catalase. Mopping up free radicals and other toxins.[xiv]
Tulsi protects your brain against the toxic effects of many pharmaceuticals including acetaminophen, meloxicam, paracetamol, haloperidol, and anti-tubercular drugs.
And Holy Basil shields your brain from heavy metals such as arsenic, cadmium, chromium and mercury. And from the toxic effects of radiation.[xv]
Holy Basil as a nootropic can help boost memory by inhibiting acetylcholinesterase which helps increase acetylcholine.
And may help prevent neurodegenerative diseases like Alzheimer's and dementia.[xvi]
How does Holy Basil feel?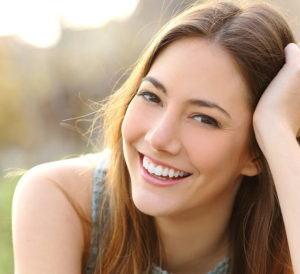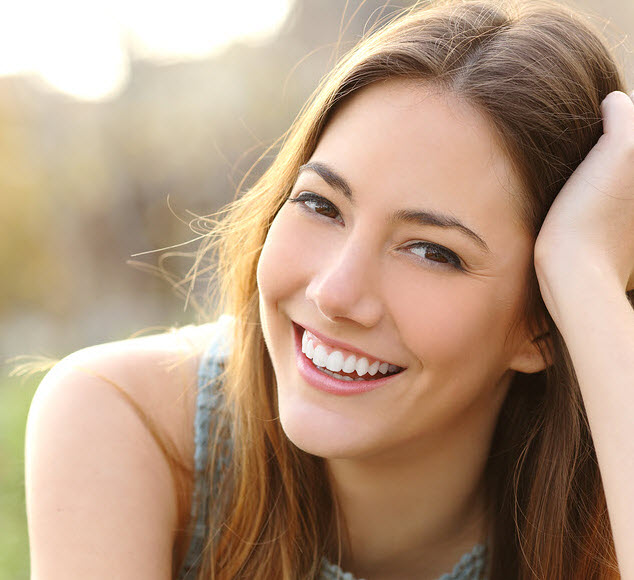 One reddit user reported that Holy Basil tea worked great for her anxiety. It was "like a hug in a mug".
Unlike using a benzo like Xanax® to numb you, Holy Basil helps you handle stress head-on. Allowing you to stay present and work through your problems.
Neurohackers report that Holy Basil helps them sleep through the night, levels out their mood and keeps them 'sane'.
Holy Basil may help to reduce work-related stress and help you deal with annoying coworkers.
Students may find that Holy Basil helps deal with the stress of exams.
Holy Basil is a potent COX-2 inhibitor and anti-inflammatory which means it should help provide relief from joint, muscle and arthritis pain.
Holy Basil Clinical Research
The therapeutic and nootropic properties of Holy Basil have been known for millennia. And is considered a sacred plant by the Hindus of India.
But clinical studies with Holy Basil in the lab and a few human studies only began late in the 20th century.
So we now have scientific evidence supporting Holy Basil's antimicrobial, adaptogenic, antidiabetic, anti-inflammatory, anti-cancer, radiation-protecting, immune system boosting, neuroprotective, heart-protecting, and as a mosquito repellent to name a few.
But most Holy Basil clinical studies so far have been done with animals. Human studies are few and we must rely on reports from the biohacking community on how well Holy Basil works as a nootropic supplement.[xvii]
Holy Basil counters radiation DNA damage
Ionizing radiation, the kind emitted by bombs, nuclear reactors, X-rays, and minerals weaken and break up DNA. Exposure to ionizing radiation causes DNA damage like single strand breaks, double strand breaks, and DNA-protein cross linkages.
Either damaging cells enough to kill them or causing them to mutate in ways that eventually lead to cancer.
The compounds orientin and vicenin found in Holy Basil have been proven to protect against radiation injury.[xviii]
Several studies in animals demonstrate Holy Basil acting as a free radical scavenger. Which is the likely mechanism of radiation protection by these flavonoids.[xix]
Holy Basil for anxiety
A study conducted in India recruited 35 patients (21 male and 14 female, average age 38.4 years) to investigate using Holy Basil in the treatment of anxiety disorders.
Patients were given 500 mg Holy Basil extract twice daily for 60 days. The patients were assessed at the beginning of the trial, 30 and 60 days.
Researchers found Holy Basil significantly reduced general anxiety and relieved the associated stress and depression.
The team concluded that "O. sanctum may be useful in the treatment of General Anxiety Disorder in humans and may be a promising anxiolytic agent".[xx]
Holy Basil as good as Valium®
Holy Basil has been studied in various animal experiments that reveal its anti-anxiety and antidepressant properties.
Research shows Holy Basil as effective in treating depression as the tricyclic antidepressant Tofranil[xxi], and Valium.[xxii]

Holy Basil Recommended Dosage
Recommended dosage of Holy Basil extract is 300 – 2,000 mg per day.
For curative therapy, 600 – 1,800 mg Holy Basil extract divided in 2 or 3 doses daily.
For diabetes, 2,500 mg Holy Basil dried leaf powder per day.
You can easily make Holy Basil tea by pouring boiling water over 2 teaspoons of fresh Holy Basil leaves and let it steep for 5 minutes.
Holy Basil Side Effects
Holy Basil is considered non-toxic and safe to use even at higher doses.
But toxicity has been reported in mice for Holy Basil essential oil (70% eugenol) at 42.5 ml/kg body weight.[xxiii] So not sure about humans.
If you are hypoglycemic or have a bleeding disorder, you should use caution about supplementing with Holy Basil.
Holy Basil has been shown to significantly decrease sperm count in males. And we have reports that village women and Ayurvedic physicians have been using Holy Basil leaves for its antifertility effect.
The mechanism of action of sperm reduction seems to be associated with a significant increase in circulating testosterone. Which decreases luteinizing hormone (LH) but not sufficiently in the testes for normal spermatogenesis.
Decreased LH levels seems to reduce production of testosterone in testes by Leydig cells. Resulting in reduced sperm production.
Researchers are now conducting studies to find out if Holy Basil will work as an effective male contraceptive.[xxiv] But this anti-sperm effect is reversible on discontinuation of Holy Basil use.
Best type of Holy Basil to buy
Holy Basil (Tulsi) is easily found in most health food stores and vitamin shops worldwide. It's available in capsules, dried powder, fresh leaves, liquid extracts and as Tulsi tea including individual tea bags.
But DO NOT confuse Holy Basil (Ocimum sanctum) for Sweet Basil (Ocimum basilicum) which is commonly used as a condiment in the kitchen.
Three types of Holy Basil are used therapeutically:
Krishna – (Ocimum tenuiflorum) has purplish leaves and makes a great tea. It's the most potent and is highest in concentrations of adaptogenic triterpenoic
Vana – (Ocimum gratissimum) is the original wild bush basil which is high in eugenol and a great adaptogen. It's native to India and parts of Africa.
Rama – (Ocimum sanctum) is the Holy Basil that was originally imported into the USA. It's the most common type which is now grown in the USA.
Always choose Holy Basil that is grown organically and if possible, wild-harvested as well.
NOTE: As an Amazon Associate I earn from qualifying purchases.
If you are in the USA or can purchase nootropic supplements in the USA, I recommend:
Gaia Herbs Holy Basil (Amazon)
Himalaya Holy Basil extract (.4% & 2.5% Ursolic acid, 2 mg & 1.5 mg Oleanolic acid) (Amazon)
Organic India Tulsi tea – various flavors (Amazon)
Mary Ruth's Holy Basil tincture (Amazon)
Nootropics Expert Recommendation
Holy Basil extract 300 – 2,000 mg per day
I recommend using Holy Basil (Tulsi) as a nootropic supplement.
Your body does not make Holy Basil on its own. So to get its benefits you must take it as a supplement.
Holy Basil is especially helpful for those dealing with anxiety and stress. Unlike numbing yourself with a benzodiazepine for relief, Holy Basil helps calm anxiety while leaving you able to face life's challenges with a clear head.
Research shows Holy Basil as effective in treating depression as popular antidepressants like Tofranil® and Valium®. But without the toxic side effects.
Holy Basil can protect your brain and body against industrial pollution, heavy metals, physical stress from strenuous physical exertion, stroke, exposure to cold, and excessive noise.
It's especially helpful for musicians exposed to high sound levels, and those working in loud and stressful environments.
Holy Basil is a powerful nootropic supplement. It should help improve memory by boosting acetylcholine in your brain. And may help protect against neurodegenerative diseases like Alzheimer's and dementia.
You can safely take up to 3,000 mg of Holy Basil daily if needed. But split into smaller doses 2 – 3 times during your day.