RESEARCH PROVEN BY INSTITUTIONS LIKE:

"You have written what I believe is the seminal guide for nootropics. I have gone through the same nightmare you went thru and I'm just now getting a handle on the nootropic solutions—thanks to your book. I think you have saved my life …" ~ Eric Menke

"As a bio-hacker who has experimented with and valued correct supplementation over a number of years, I think your book 'Head First' is absolutely first-class. And will become a standard reference for people like myself." ~ Alan Patten
Finally, Quickly and Easily …
… Eliminate Brain Fog, Anxiety,
Depression, Memory Loss or Just a
General Feeling of Blah …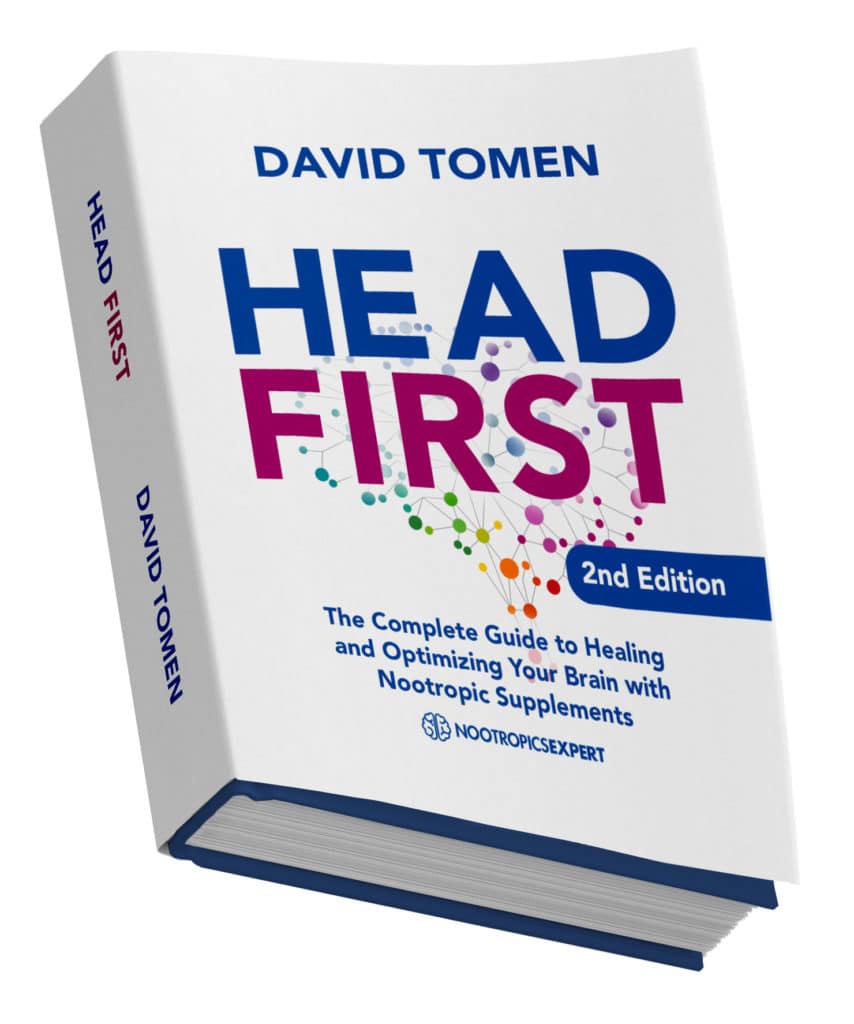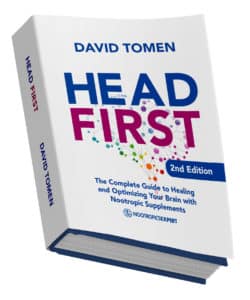 Dear fellow neurohacker,
Nootropic supplements can help increase your memory, boost learning ability, improve your mood, decrease depression, tame anxiety, and even help you think faster.
Some nootropics are anti-aging and will help reverse the damage caused by toxins, environmental pollution, disease, poor blood flow and simply getting older.
And other nootropic supplements have been shown effective in stopping, and even reversing neurodegenerative diseases like Alzheimer's, Parkinson's, Huntington's and more.
But how do you know which nootropics to take? Which supplements will do more harm than good?
This is where Head First 2nd Edition steps in. My book provides you with the latest information on all the most popular nootropic supplements used today.
Complete reviews of dozens of nootropic supplements. Each review including what it is, where it comes from, how the nootropic works in your brain, how much to use, and the best form of that supplement to buy.
These are the same dietary supplements used by tens of thousands of people from around the world. Folks dealing with problems just like you.
And the last two chapters of this 962-page book offer nootropic stack suggestions for a variety of issues including anxiety, depression, learning and memory, focus, sleep, ADHD, OCD, PTSD, traumatic brain injury and even longevity.
It's in language that is easy to read and understand no matter who you are; layman or medical professional.
And it's supported by the latest neuroscience research available from leading research institutions and universities in the world.
Head First 2nd Edition is the most authoritative guide to nootropic supplements available anywhere. I know because I've looked and looked everywhere. This book is unique, and you can only get it here.

Head First 2nd Edition is now available in hardcover, paperback, and iPad or Kindle digital versions at these major online booksellers:


"Thank you for the excellent resource you have provided with your book "Head First". This is now my go to resource when investigating supplement regimes for my clients. I highly recommend "Head First"". ~ Susan Birch
A Reference and Repair Manual for Your Brain
In this book you'll get:
Detailed reviews of all the most popular nootropic supplements used today
Everything is supported by hundreds and hundreds of peer-reviewed clinical studies
You learn which supplements to buy and which to avoid
You get clear instructions on how to use each supplement including dosage recommendations (often different than what's on the bottle)
Stay safe with possible side effects; avoid drug interactions
Know how each supplement works in your brain and why
A chapter on easy-to-understand neuroscience on how your brain works and why these nootropics work
2 chapters on recommended nootropic stacks for treating; anxiety, ADHD, depression, learning and memory, mental fatigue and more
Discover the missing link in functional medicine if you are dealing with memory problems, brain fog, impaired thinking, mental fatigue, anxiety or depression
My book Head First 2nd Edition is 962-pages including references.
Head First 2nd Edition is now available in hardcover, paperback, and iPad or Kindle digital versions at these major online booksellers:
"Head First … is an amazing manual. If like most people who are desirous of more mental clarity, better moods and overall optimal energy – you now have an experienced guide to – get you started." ~ P. Masters
This is Who I Am
For the last decade, author and world-traveler David Tomen has worked to deal with Adult ADD. And the brain fog, mental fatigue and memory loss that comes with hypothyroidism.
Through studying the clinical data and experimenting with dozens of nootropic supplements, the author has successfully restored his own health. With cognition, memory and mood better than before.
Through his writing and videos, the author is now empowering people to take control of their own cognitive health.
Fans of David's work and contribution to the neurohacking community are encouraging their doctors and psychiatrists to make Head First 2nd Edition part of their library.
When you take care of your Head First, everything else falls into place. You're full potential is within reach at last. Today is the day to go Head First!
For as little as the cost of a one-month supply of a high quality supplement, or pre-formulated nootropic stack, you can get your copy of Head First 2nd Edition today in hardcover, paperback, or digital for iPad or Kindle right here:
"
Head First … is full of
useful
information about brain supplements … easy to understand, even for non-native English speakers. Thank you so much for writing this book. A "must read" for any medical professional.
" ~ Patricia Volkova
"I highly recommend this book to anyone who is researching their health issues and who wants to explore "nootropics". ~ Howard Honeycutt