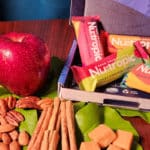 The 4 Healthiest Snack Bars made with Real Nootropic Ingredients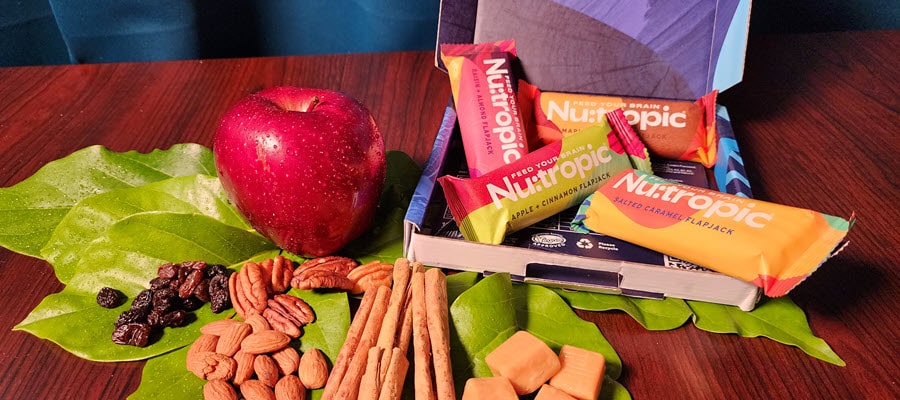 Imagine better focus and quicker thinking just from eating a snack bar.
That's the promise of the newest nootropic snack bar on the market – Nu:tropic® bars.
What are Nu:tropic® bars?
Nu:tropic® bars are energy snack bars that contain nootropic ingredients for a mood & energy boost, faster processing speed, better memory, and improved verbal fluidity.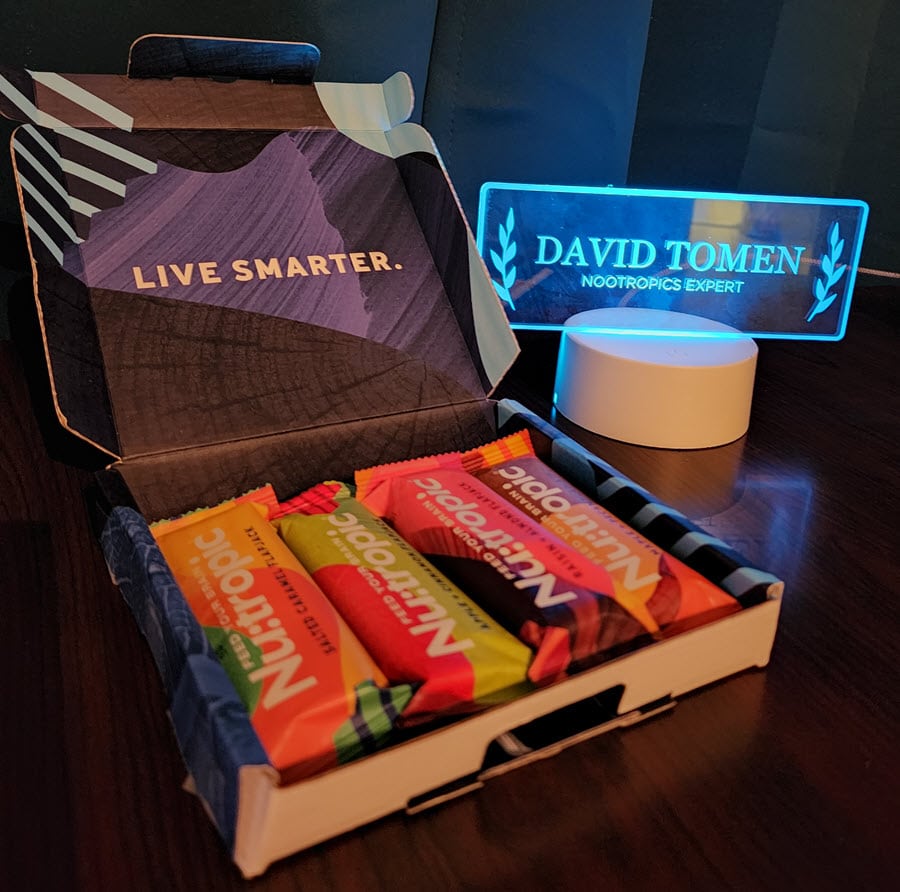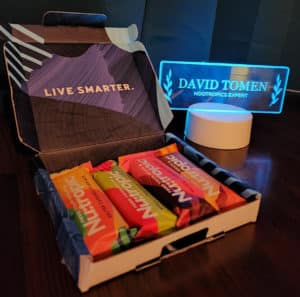 Available now, Nu:tropic® is the latest innovation just launched by the makers of Mind Lab Pro® and Performance Lab®.
With over one million bottles of Mind Lab Pro® sold world-wide, parent company DTCX saw the need for an energy snack bar that also boosted brain performance.
Why didn't anyone thing of doing this sooner?
Because it seems to me that if you're going to reach for a snack bar, you may as well give your brain a snack too!
With Nu:tropic® bars the nootropic ingredients are built right into the bar. You get the energy boost or recovery you were looking for.  And a cognitive boost at the same time.
Nu:tropic® bar nootropic ingredients
Each Nu:tropic® bar contains:
Norwegian Black Oats (Avena strigosa) (33% of the bar) – oats are one of nature's most potent sources of complex carbohydrates – good carbs supplying healthy fats, protein, and fiber.
Norwegian Black Oats are 40% richer in essential fatty acids compared to regular oats for sustained mental energy.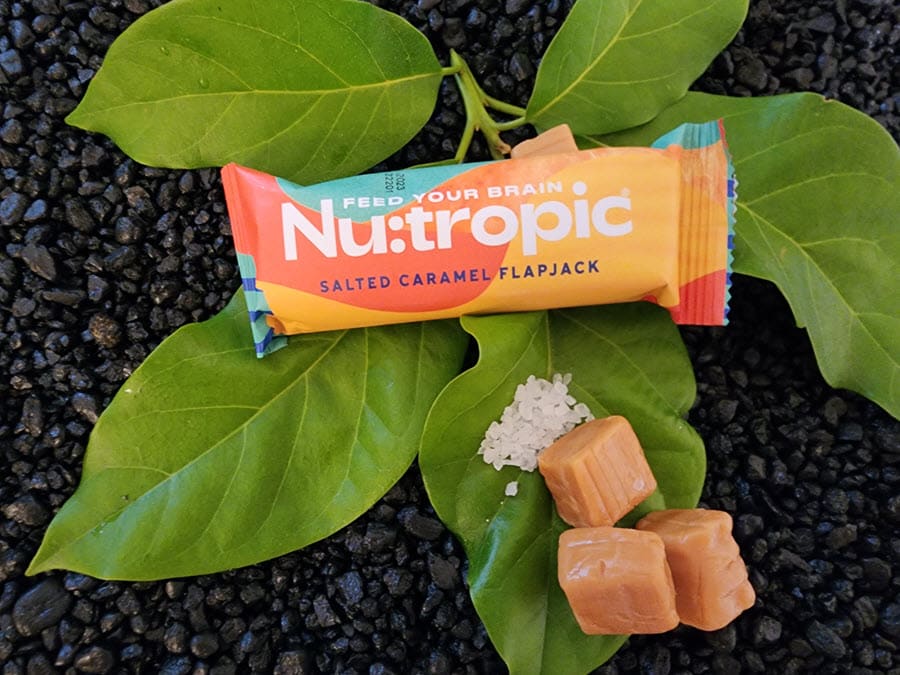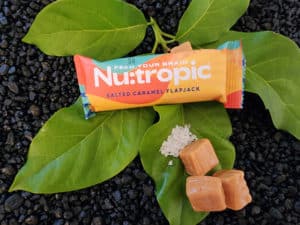 NutriGenesis® Choline – an essential nutrient required for development and maintenance of healthy brain cell membranes and precursor to the synthesis of acetylcholine.
An optimal daily supply of choline ensures you have the acetylcholine you need for faster brain cell signaling and better learning, memory, focus and recall.
DHA (Omega-3) 150 mg – this essential fatty acid makes up much of the gray matter in your brain for quicker brain cell signaling, neurotransmitter synthesis and release[i], and ensuring optimal learning, memory[ii], focus and concentration.
This DHA is sourced directly from marine microalgae meaning there is no compromise on purity, potency, or sustainability. A guilt-free source of this essential Omega-3.
Prebiotic fiber – gut health and brain health are directly connected.[iii] And an adequate daily supply of soluble prebiotic fiber is essential for a healthy gut.[iv]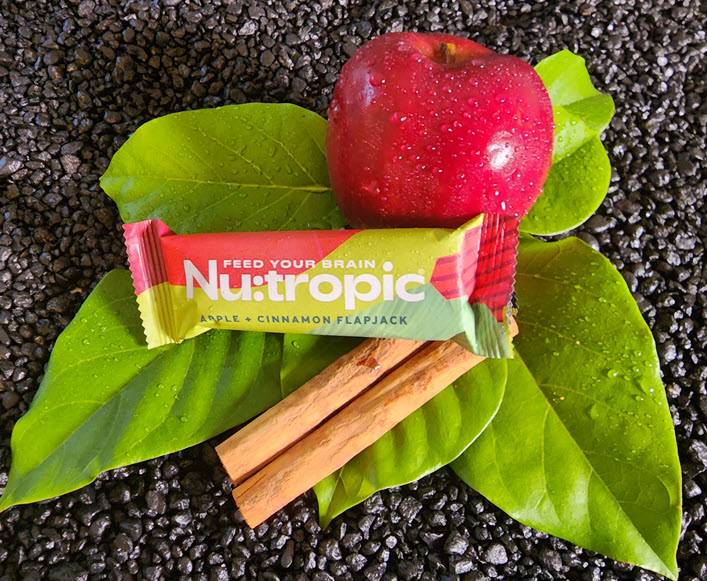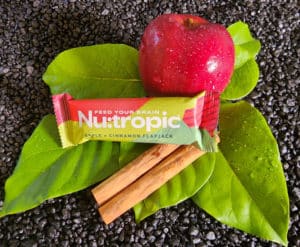 A happy gut means more beneficial bacteria for a better mood and less anxiety.[v] This high-quality soluble fiber is sourced from chicory root grown in Europe
Phosphatidylserine (PS) – working in synergy with DHA, PS helps in the storage, release, and activity of all your major neurotransmitters and receptors – supplementing with PS can boost cognition, focus, memory, and recall.[vi]
Phosphatidylserine helps lower cortisol and ACTH levels during intense exercise.[vii] And is effective in relieving stress. Putting you in a better mood during exams.[viii]
NutriGenesis® Magnesium – is a cofactor in more than 600 enzymatic reactions in your brain and body. Magnesium helps with ATP synthesis for more energy[ix], and is required for the synthesis of RNA and DNA, and myelin synthesis.
Magnesium governs neuron ion channels[x], optimizing the flow of neurotransmitters, and regulates synaptic plasticity for better focus, more energy, improved memory, and supports overall cognitive ability.[xi]  
NutriGenesis® Vitamins D3, K2, B2, B3, B6, B9 & B12 – studies show most are deficient in these critical nutrients[xii]. These vitamins are cofactors in the synthesis of all your major neurotransmitters, support ATP synthesis for more energy, and increased brain blood flow.
These vitamins help eliminate free radicals and reducing inflammation, boosts BDNF and growth hormone, and methylation for better energy metabolism in each of your cells.
And these nutrients are essential for the neuroplasticity and myelin synthesis needed for optimal learning and memory.  
Nu:tropic® bar benefits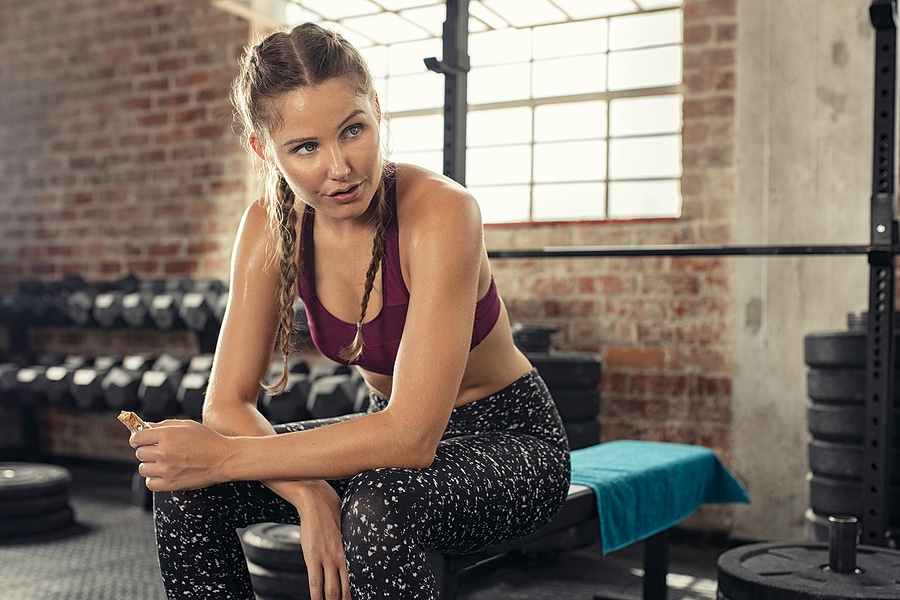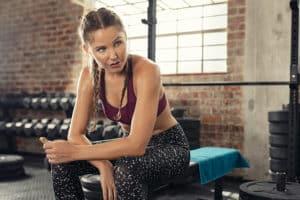 Your brain is the hungriest organ in your body. Weighing in at only 2 – 3 pounds – your brain uses a disproportionate 20% of your total energy supply.
So, you need to feed your brain. And the result is improved mental performance, more mental energy, better concentration, focus and memory, and a boost in productivity.
And you can do that by eating a Nu:tropic® bar.
Nu:tropic® bar side effects
Nu:tropic® bars are non-toxic and safe to use by most people.
These nootropic bars are gluten-free, vegan friendly, and additive and preservative-free.
Nu:tropic® bars are not recommended for pregnant women or women who are breastfeeding. And not recommended for anyone under the age of 18 years.
Nu:tropic® bars are made in a plant that also handles nuts and some flavors containing tree nuts. So if you are allergic to nuts you should not eat Nu:tropic® bars.
Nu:tropic® bar flavors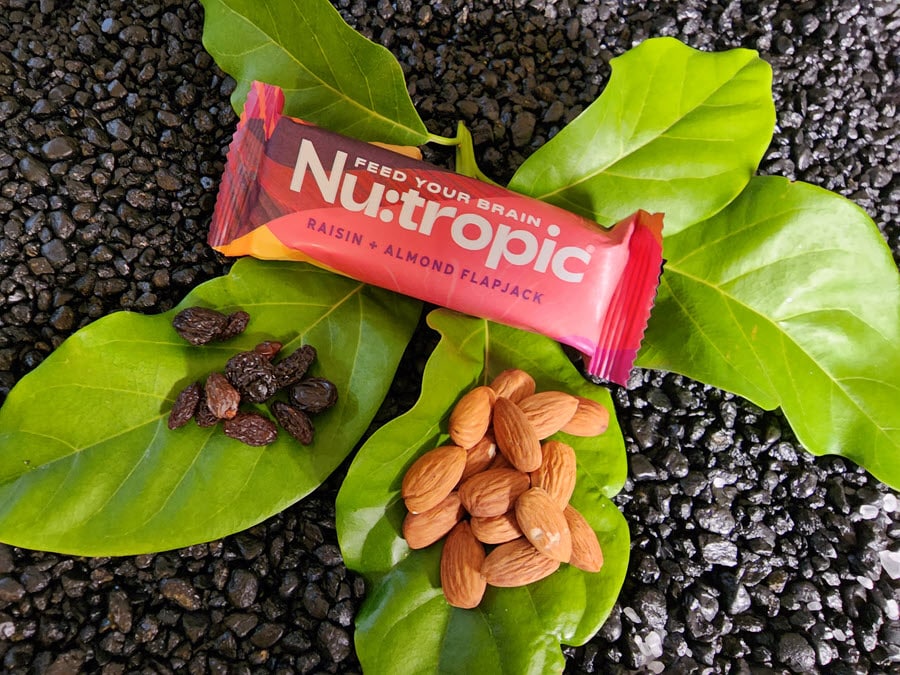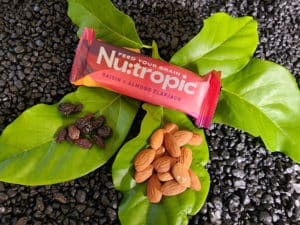 Nu:tropic® bars are available in four flavors:
Where are Nu:tropic® bars made?
Nu:tropic® bars are currently manufactured in the UK and shipped from the US to customers in North America, and from the UK to the UK, and Europe.
Where can you buy Nu:tropic® bars?
Nu:tropic® bars are currently available only on the Nu:tropic® website. They are not yet available in stores.
How much do Nu:tropic® bars cost?
Nu:tropic® bars are available in boxes of 12 bars for each flavor. Or you can get a taster pack of 4 bars if you'd like to first sample each flavor.
Apple + Cinnamon – box of 12 bars – $42
Maple + Pecan – box of 12 bars – $42
Raisin + Almond – box of 12 bars – $42
Salted Caramel – box of 12 bars – $42
Taster pack – box of 4 bars – $16
Shipping is free in the UK and USA. 
Nootropics Expert® Recommendation
I recommend using Nu:tropic® bars instead of regular snack bars, protein bars, or energy bars.
Because Nu:tropic® bars offer more than simply an energy boost or fewer hunger pains.
Nu:tropic® bars are formulated with nootropic ingredients for boosting energy, supporting better learning and memory, concentration, focus and recall, and a better mood with less anxiety.
The thins is, most of us are deficient in one nutrient or another even on the best of diets. And since you need to feed your brain for optimal performance, Nu:tropic® bars are another good option for restoring those missing or deficient nutrients.
Nu:tropic® bars are especially helpful when you need that extra energy boost. Or when you would normally reach for a snack bar, protein brain, or energy bar – choose a Nu:tropic® bar instead and do your brain a favor. Live smarter! Feed your brain!
You can enjoy a Nu:tropic® bar for breakfast, lunch or dinner. Or anytime in between meals.
[i] Delion S., Chalon S., Guilloteau D., Besnard J.C., Durand G. "alpha-Linolenic acid dietary deficiency alters age-related changes of dopaminergic and serotoninergic neurotransmission in the rat frontal cortex." Journal of Neurochemistry. 1996 Apr;66(4):1582-91. (source)
[ii] Johnson E.J., McDonald K., Caldarella S.M., Chung H.Y., Troen A.M., Snodderly D.M. "Cognitive findings of an exploratory trial of docosahexaenoic acid and lutein supplementation in older women."Nutritional Neuroscience. 2008 Apr;11(2):75-83. (source)
[iii] Mayer E. A. (2011). "Gut feelings: the emerging biology of gut-brain communication." Nature reviews. Neuroscience, 12(8), 453–466. (source)
[iv] Davis, C. D., & Milner, J. A. (2009). "Gastrointestinal microflora, food components and colon cancer prevention." The Journal of nutritional biochemistry, 20(10), 743–752. (source)
[v] Messaoudi M., Lalonde R., Violle N., et al. "Assessment of psychotropic-like properties of a probiotic formulation (Lactobacillus helveticus R0052 and Bifidobacterium longum R0175) in rats and human subjects." British Journal of Nutrition. 2011;105(5):755-64. (source)
[vi] Crook T.H., Tinklenberg J., Yesavage J., Petrie W., Nunzi M.G., Massari D.C. "Effects of phosphatidylserine in age-associated memory impairment." Neurology. 1991 May;41(5):644-9. (source)
[vii] Monteleone P., Beinat L., Tanzillo C., Maj M., Kemali D. "Effects of phosphatidylserine on the neuroendocrine response to physical stress in humans." Neuroendocrinology. 1990 Sep;52(3):243-8. (source)
[viii] Benton D., Donohoe R.T., Sillance B., Nabb S. "The influence of phosphatidylserine supplementation on mood and heart rate when faced with an acute stressor." Nutritional Neuroscience. 2001;4(3):169-78. (source)
[ix] Slutsky I., Abumaria N., Wu L.J., Huang C., Zhang L., Li B., Zhao X., Govindarajan A., Zhao MG., Zhuo M., Tonegawa S., Liu G. "Enhancement of learning and memory by elevating brain magnesium."Neuron. 2010 Jan 28;65(2):165-77. (source)
[x] Palacios-Prado N., Chapuis S., Panjkovich A., Fregeac J., Nagy J.I., Bukauskas F.F. "Molecular determinants of magnesium-dependent synaptic plasticity at electrical synapses formed by connexin36." Nature Communications. 2014 Aug 19;5:4667. (source)
[xi] Landfield P.W., Morgan G.A. "Chronically elevating plasma Mg2+ improves hippocampal frequency potentiation and reversal learning in aged and young rats." Brain Research. 1984 Nov 19;322(1):167-71. (source)
[xii] Derbyshire E. (2018). Micronutrient Intakes of British Adults Across Mid-Life: A Secondary Analysis of the UK National Diet and Nutrition Survey. Frontiers in nutrition, 5, 55 (source)
As an Amazon Associate I earn from qualifying purchases. This post may also contain other affiliate links and I will be compensated if you make a purchase after clicking on my links.