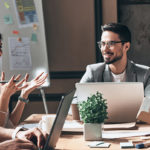 HVMN started out as Nootrobox, a nootropics company founded by Stanford students Geoffrey Woo and Michael Brandt in 2014.
The company was renamed HVMN in 2017 and has venture capital backing by Andreessen Horowitz, Marissa Mayer, Tony Hsieh, Joe Montana, and Alex Krongard.
The company is based in San Francisco, California and produces the Nootrobox line of nootropic supplements, a Ketone Ester drink, and other products that support brain health and cognition.
Several people in the Nootropics Expert community have asked me for, and this is my review of HVMN's Nootrobox supplements Rise, Sprint, Kado and Yawn.
Here you'll find what's in each nootropic stack, the benefits each ingredient provides for your brain, pros and cons of this line of supplements, pricing and links through to buy if you want to try any of them.
Let's get started …
HVMN Nootrobox Supplements and Ingredients
NVMN – Nootrobox Rise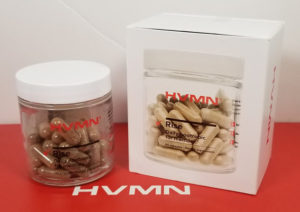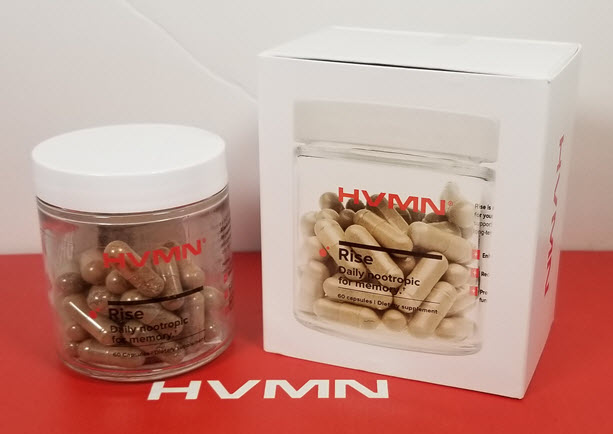 Bacopa Monnieri extract (50% bacosides) 300 mg – Bacopa boosts the speed of information processing, learning rate and memory consolidation.[i] It increases working memory capacity.[ii]
And research shows Bacopa Monnieri as effective for treating anxiety as the benzodiazepine drug lorazepam. But without the memory loss associated with using benzos.[iii]
Ashwagandha extract (10% withanolides) 250 mg – inhibits acetylcholinesterase. The enzyme responsible for breaking down the key neurotransmitter acetylcholine.[iv] Boosting memory, learning and cognition.
Ashwagandha helps regenerate axons, dendrites and synapses which helps boost memory and restore damaged neural networks.[v] And it helps reduce anxiety and depression by lowering the stress hormone cortisol, blood sugar levels and improving lipid profiles.[vi]
CDP-Choline 250 mg – aids in the synthesis of acetylcholine. And the release of dopamine in your brain.[vii] CDP-Choline also enhances the release of norepinephrine, and serotonin.[viii] Improving cognitive performance, learning and memory.
HVMN – Nootrobox Sprint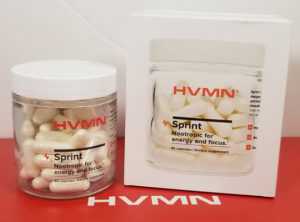 Caffeine 200 mg – is an adenosine antagonist which influences acetylcholine, epinephrine (adrenaline), serotonin and boosts the use of dopamine. Providing the stimulant effect experienced when consuming caffeine.[ix]
Caffeine provides a protective effect by boosting gene expression of brain-derived neurotrophic factor (BDNF). Studies show chronic caffeine consumption may protect against developing neurodegenerative diseases like Alzheimer's.[x]
And caffeine improves mood within an hour of consumption.[xi] Because it increases the density of GABA receptors, potentiates dopamine, and causes some serotonin receptors to be more responsive.
L-Theanine 200 mg – is a non-dietary amino acid found in green tea (camellia sinensis). And structurally similar to the neurotransmitters l-glutamate and l-glutamine.
L-Theanine boosts alpha brain waves (8-12Hz) promoting alert relaxation. And theta brain waves associated with creativity and relief from trauma.[xii]
And L-Theanine boosts the neurotransmitters serotonin, dopamine and GABA in your brain. As well as increasing Brain-Derived Neurotrophic Factor (BDNF) and Nerve Growth Factor (NGF).[xiii] Helping to relieve stress, improve cognition, boost mood, and cognitive function.
Panax Ginseng extract (5% Ginsenosides) 400 mg – helps improve mood and reduce stress by working as an adaptogen, reducing adrenal fatigue, boosting GABA and providing an anti-stress effect.[xiv]
Ginseng provides neuro-protective effects on the dopaminergic-pathway which can help with ADHD.[xv] And is a serotonin and norepinephrine reuptake inhibitor. Working as an antidepressant and helping some symptoms of ADHD.[xvi]
Ginseng also acts as an anti-inflammatory by reducing cytokines. And as an anti-oxidant. Boosting ATP production in mitochondria, in part because this antioxidant effect shields mitochondria.[xvii]
HVMN – Nootrobox Kado (Omega-3)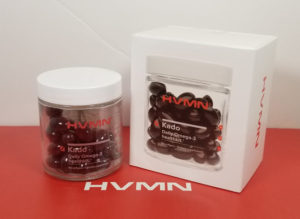 Vitamin D3 50 mcg – with Omega-3's is needed for serotonin synthesis, release and function. Regulating executive function, sensory gating, and social behavior.[xviii] And Vitamin D3 is involved in the synthesis of GABA, glutamate and glutamine, and dopamine in the brain.[xix]
Vitamin D3 protects against DNA damage through prevention of telomere shortening and inhibition of telomerase activity. And prevents oxidative damage to DNA.[xx]
And Vitamin D3 is involved in neuromodulation, regulation of neurotrophic factors, neuroprotection, neuroplasticity, and brain development. All in areas of the brain associated with depression.[xxi]
Vitamin K1 & K2 600 mcg – is essential for the synthesis of sphingolipids which contribute to the formation of the myelin sheath insulating axons in your brain. Sphingomyelin plays a significant role in cell signaling pathways.[xxii]
Several proteins in your brain are dependent on Vitamin K. For example, protein Gas6 is actively involved in apoptosis, mitogenesis, neuron and glial cell growth.
And studies show increased intake of Vitamin K is associated with better memory.[xxiii]
Omega -3 750 mg (EPA 235 mg & DHA 470 mg) – impacts your brain's signaling systems, neurotransmitters, memory, learning, focus and attention.[xxiv] And helps reduce and even reverse cognitive decline.
Studies show that supplementing with Omega-3s helps improve memory[xxv], and reaction time even in healthy young adults.[xxvi]
Your brain is composed of 60% fat. 15 – 20% of your cerebral cortex is DHA. Even the retina in your eyes is 30 – 60% DHA. Making DHA the most essential nutrient for eye and brain health.
And research show that supplementing with EPA helps treat depression.[xxvii]
Astaxanthin 2 mg – has been shown in several clinical studies to be the most powerful antioxidant found in nature. And is a far more potent free radical scavenger than β-carotene and α-tocopherol.[xxviii]
Astaxanthin protects your brain and your eyes. Human studies show supplementing with Astaxanthin reduces eye fatigue caused by staring at a digital screen all day. And improves the ability to change focus at different distances.[xxix]
HVMN – Nootrobox Yawn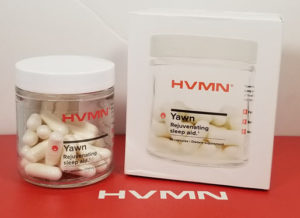 Magnesium Glycinate 250 mg – the 4th most abundant mineral and a cofactor in more than 300 enzymatic reactions in your body. Some of these processes are directly involved in falling asleep and staying asleep.
Magnesium helps calm nerve cell signaling; relaxing and calming muscles and brain activity. And helps relax smooth muscle cells. Allowing for easier blood flow and lower blood pressure that precedes sleep.
Magnesium ions control the ion channels required for brain cell signaling.[xxx] And is critical for the neuroplasticity required for memory consolidation while you sleep.
L-Glycine 500 mg – is the 2nd most abundant amino acid found in your body. And is one of the proteins used to build tissue including muscles, joints, and organs.
Glycine works with taurine and GABA as an inhibitory neurotransmitter. It helps reduce hyperactivity in the brain and is used as a natural nootropic for treating mental and cognitive illness.[xxxi]
L-Glycine supplementation has been shown to help your fall asleep faster and improve overall quality of sleep.[xxxii]
L-Theanine 100 mg – is a non-dietary amino acid found in green tea (camellia sinensis). And structurally similar to the neurotransmitters l-glutamate and l-glutamine.
L-Theanine is one of the very few nootropics known to modulate brain waves.[xxxiii] It affects alpha brain waves which are associated with relaxation. Preparing your body and brain for sleep.
Melatonin 1 mg – is a hormone made in your pineal gland. And it's this hormone your body produces when it's time to go to sleep.
Melatonin levels are low during the day. And peak at about 2 – 3 AM depending on your age. After that it steadily declines until morning.
Impaired melatonin production is common as you get older, work nights, or deal with jet lag.
Studies show that melatonin supplementation may help improve quality of sleep and morning alertness. And if the dose is low enough you can avoid the withdrawal symptoms normally associated with prescription sleep aids.[xxxiv]


HVMN – Nootrobox – Who it's for
HVMN offers four pre-formulated nootropic stacks that should appeal to anyone looking to improve cognition, learning, memory, energy, and get a good night's sleep.
The ingredients and dosage in each stack are safe for most adults in reasonably good health.
But as always, use caution if you are using any prescription medication or are dealing with significant health issues. Check the "Side Effects" section of each individual nootropic review linked to in this post for more.
HVMN – Nootrobox – The Good
The leadership team at HVMN are serious about producing what they believe to be effective nootropic supplements.
No "proprietary blends": HVMN lists the amount of each ingredient on the bottle and box label. Dosages are not hidden in a "proprietary formula" which is an ongoing problem in this industry.
Quality: the company conducts at least 3 quality and purity audits from acceptance of raw ingredients through to encapsulation. And provide a Certificate of Analysis for each ingredient.
Changelog: HVMN changes the amount and type of ingredients in each of its nootropic stacks from time-to-time. And provides an explanation in their FAQs on why they made the change.
Effective dosages: the amount of each ingredient in each stack is the lowest effective recommended dosage shown in clinical studies to be therapeutically effective.
HVMN – Nootrobox – The Not So Good
Other Ingredients
Check most supplement bottle labels and you'll see a list of so-called "other ingredients". Including chemical sounding names you likely will not recognize.
This is what separates the highest quality supplements available from the good but not great supplements.
Opti Nutra for example offers Mind Lab Pro® and all Performance Lab® supplements with zero "other ingredients". HVMN disappoints in this regard.
The list of "other ingredients" are typically included to increase shelf life, bind tablets together, improve consistency, improve moisture resistance, add bulk (to fill a capsule), and add color and flavor.
Here's what you'll find included in capsules for Nootrobox Sprint, Rise and Yawn:
Microcrystalline Cellulose – a binding, or thickening agent, or otherwise augmenting the consistency of the ingredients – sometimes the capsule is made of cellulose.
Magnesium Stearate – a "flow agent" or lubricant that speeds up the manufacturing process and is used because it prevents ingredients from sticking to mechanical equipment – also makes the tablet easier to swallow – the problem with magnesium stearate is it suppresses your natural killer T-cells which are a key component of your immune system.

[xxxv]

Silicon Dioxide – is used by supplement manufacturers as an anti-caking agent to ensure powders flow easily through encapsulation machines.
The European Food Safety Authority published an opinion in January 2018 that stated they could not recommend Silicon Dioxide as a food additive because safety and toxicity could not be confirmed.[xxxvi]
Caffeine Dosage
One of the most popular and simple nootropic stacks is caffeine stacked with L-Theanine.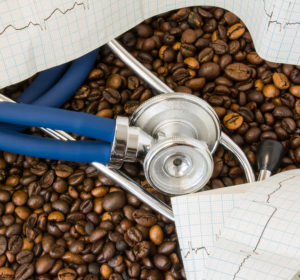 But Nootrobox Sprint contains 200 mg of caffeine stacked with 200 mg L-Theanine. While 400 mg per day of caffeine seems to be safe for most healthy adults, just 200 mg of caffeine taken in one dose can be toxic to some people.
Everyone has a different tolerance level before experiencing the symptoms of caffeine overdose. While Nootrobox Sprint may be safe for many people, HVMN has eliminated some potential customers who would otherwise get this stack.
The dosage is easy enough to fix because at least one study found just 40 mg of caffeine with 200 mg L-Theanine to be effective.[xxxvii]
A more effective caffeine + L-Theanine stack option in my opinion is the new Performance Lab® Stim. It contains Natural Caffeine (from Coffea Robusta seeds) 50 mg, L-Theanine (Suntheanine®) 100 mg, Ajipure® L-Tyrosine 250 mg, with a balanced NutriGenesis® B-Complex. For alert clean energy without the jitters.
Melatonin
Melatonin is naturally secreted by your pineal gland. And plays a critical role in your circadian rhythm and sleep cycle.
But Nootrobox Yawn has two problems with melatonin. First, 1 mg of melatonin may be too high a dose for some people. And second, as far as I can tell, the melatonin used in this stack is synthetic.
Synthetic melatonin for supplements is manufactured by reducing 5-methoxyindole-3-acetonitrile with sodium and ethanol. The resulting product is then acetylated by using glacial acetic acid and acetic anhydride. It's then mixed with an inert carrier or binder for use in supplements.
This would be a better sleep supplement in my opinion if HVMN used a natural source of melatonin from something like Montmorency Tart Cherry which is used in Performance Lab® Sleep.
Shipping
HVMN ships exclusively to addresses in the USA but not internationally. The company does suggest trying a parcel forwarding company but can't guarantee their services.
If you live anywhere other than the United States it's going to be a challenge getting any of their products. But you may be able to order from their store on Amazon.
HVMN – Nootrobox Price
HVMN offers each nootropic stack reviewed here for a reasonable price. And if you choose their monthly subscription, you save an additional 10%.
HVMN – Nootrobox Rise $34.95
HVMN – Nootrobox Sprint $24.95
HVMN – Nootrobox Yawn $24.95
HVMN – Nootrobox Kado Omega-3 $34.95
HVMN – Nootrobox package deal including Rise, Sprint, Yawn and Kado $109.95
Shipping is free for orders of $40 or more.
HVMN ships exclusively to addresses in the USA but not internationally. The company does suggest trying a parcel forwarding company but can't guarantee their services.


Who Uses Nootrobox and Why?
Anyone one of the nootropic stacks that HVMN produces may be a good way to start if you are new to nootropics.
Most of the ingredients are natural, dosages are generally low enough for most people but should still be effective, and the price is attractive.
HVMN Rise is a good way to boost memory, Sprint for energy and focus, Kado for overall brain health, and Yawn for sleep.
Where to Buy It
You can get HVMN supplements directly from their website. Each of the following links will take you to the relevant product page where you'll find a "Buy Now" button.
HVMN – Nootrobox Rise $34.95
HVMN – Nootrobox Sprint $24.95
HVMN – Nootrobox Yawn $24.95
HVMN – Nootrobox Kado Omega-3 $34.95
HVMN – Nootrobox package deal including Rise, Sprint, Yawn and Kado $109.95
Nootropics Expert® HVMN – Nootrobox Summary
If you have spent any time searching for nootropic supplements, chances are you've come across HVMN and Nootrobox. The company has plenty of venture capital backing and some good PR.
But HVMN also has two active founders, Geoffrey Woo and Michael Brandt who continue to contribute and tweak each product in their lineup as new science and customer feedback becomes available.
Each Nootrobox supplement contains natural ingredients considered non-toxic and safe when used at recommended dosages. I just wish the founders would choose to discontinue use of the "other ingredients" in some of their supplements.
Nootrobox Rise and Sprint provide basic, safe support for memory and relief from fatigue.
Nootrobox Kado Omega-3 is one of the better options on the market for DHA brain health support. But would likely be more effective if you doubled the daily dosage.
Nootrobox Yawn is one of the safer sleep supplements around. But I'd prefer the synthetic melatonin was replaced by something natural like a Tart Cherry extract.
In my opinion, Mind Lab Pro® and all Performance Lab® Mind and Energy are more potent and better value.
The most effective pre-formulated caffeine + L-Theanine stimulant stack is the new Performance Lab® Stim. It contains Natural Caffeine (from Coffea Robusta seeds) 50 mg, L-Theanine (Suntheanine®) 100 mg, Ajipure® L-Tyrosine 250 mg, with a balanced NutriGenesis® B-Complex. Dosages are more in line with what's been shown in clinical trials to be effective. 
But
HVMN Nootrobox
is certainly a worthy competitor. And worth trying. I have and
they do what the company says they'll do
.
[i] Stough C., Lloyd J., Clarke J., Downey L.A, Hutchison C.W., Rodgers T., Nathan P.J. "The chronic effects of an extract of Bacopa monniera (Brahmi) on cognitive function in healthy human subjects." Psychopharmacology (Berlin). 2001 Aug;156(4):481-4. (source)
[ii] Stough C., Downey L.A., Lloyd J., Silber B., Redman S., Hutchison C., Wesnes K., Nathan P.J. "Examining the nootropic effects of a special extract of Bacopa monniera on human cognitive functioning: 90 day double-blind placebo-controlled randomized trial." Phytotherapy Research. 2008 Dec;22(12):1629-34 (source)
[iii] Bhattacharya S.K., Ghosal S. "Anxiolytic activity of a standardized extract of Bacopa monniera: an experimental study." Phytomedicine. 1998 Apr;5(2):77-82 (source)
[iv] Choudhary M.I., Yousuf S., Nawaz S.A., Ahmed S., Atta-ur-Rahman. "Cholinesterase inhibiting withanolides from Withania somnifera." Chemical and Pharmaceutical Bulletin (Tokyo) 2004 Nov;52(11):1358-61. (source)
[v] Kuboyama T., Tohda C., Komatsu K. "Neuritic regeneration and synaptic reconstruction induced by withanolide A." British Journal of Pharmacology 005 Apr;144(7):961-71. (source)
[vi] Bhattacharya S.K., Bhattacharya A., Sairam K., Ghosal S. "Anxiolytic-antidepressant activity of Withania somnifera glycowithanolides: an experimental study." Phytomedicine 2000 Dec;7(6):463-9. (source)
[vii] Adibhatla R.M., Hatcher J.F., Dempsey R.J. "Citicoline: neuroprotective mechanisms in cerebral ischemia." Journal of Neurochemistry 2002 Jan;80(1):12-23 (source)
[viii] Petkov V.D., Stancheva S.L., Tocuschieva L., Petkov V.V. "Changes in brain biogenic monoamines induced by the nootropic drugs adafenoxate and meclofenoxate and by citicholine (experiments on rats)." General Pharmacology 1990;21(1):71-5. (source)
[ix] Walker J., Rohm B., Lang R., Pariza M.W., Hofmann T., Somoza V. "Identification of coffee components that stimulate dopamine release from pheochromocytoma cells (PC-12)." Food and Chemical Toxicology. 2012 Feb;50(2):390-8 (source)
[x] Ghoneim F.M., Khalaf H.A., Elsamanoudy A.Z., Abo El-Khair S.M., Helaly A.M., Mahmoud el-H.M., Elshafey .SH. "Protective effect of chronic caffeine intake on gene expression of brain derived neurotrophic factor signaling and the immunoreactivity of glial fibrillary acidic protein and Ki-67 in Alzheimer's disease." International Journal of Clinical and Experimental Pathology. 2015 Jul 1;8(7):7710-28. (source)
[xi] Backhouse S.H., Biddle S.J., Bishop N.C., Williams C. "Caffeine ingestion, affect and perceived exertion during prolonged cycling." Appetite. 2011 Aug;57(1):247-52. (source)
[xii] Mason R. "200 mg of Zen" Alternative and Complementary Therapies. July 2004, 7(2): 91-95. (source)
[xiii] Yamada T., Terashima T., Wada K., Ueda S., Ito M., Okubo T., Juneja L.R., Yokogoshi H. "Theanine, r-glutamylethylamide, increases neurotransmission concentrations and neurotrophin mRNA levels in the brain during lactation." Life Sciences. 2007 Sep 29;81(16):1247-55. (source)
[xiv] Filaretov A.A., Bogdanova T.S., Podvigina T.T., Bodganov A.I. "Role of pituitary-adrenocortical system in body adaptation abilities."Experimental and Clinical Endocrinology. 1988 Dec;92(2):129-36. (source)
[xv] Radad K., Gille G., Moldzio R., Saito H., Rausch W.D. "Ginsenosides Rb1 and Rg1 effects on mesencephalic dopaminergic cells stressed with glutamate." Brain Research. 2004 Sep 17;1021(1):41-53. (source)
[xvi] Niederhofer H. "Panax ginseng may improve some symptoms of attention-deficit hyperactivity disorder." Journal of Dietary Supplements. 2009;6(1):22-7. (source)
[xvii] Li X.T., Chen R., Jin L.M., Chen H.Y. "Regulation on energy metabolism and protection on mitochondria of Panax ginseng polysaccharide." American Journal of Chinese Medicine. 2009;37(6):1139-52. (source)
[xviii] Patrick R.P., Ames B.N. "Vitamin D and the omega-3 fatty acids control serotonin synthesis and action, part 2: relevance for ADHD, bipolar disorder, schizophrenia, and impulsive behavior." The FASEB Journal 2015 Jun;29(6):2207-22. (source)
[xix] Jiang P., Zhang L.H., Cai H.L., Li H.D., Liu Y.P., Tang M.M., Dang R.L., Zhu W.Y., Xue Y., He X. "Neurochemical effects of chronic administration of calcitriol in rats." Nutrients. 2014 Dec 22;6(12):6048-59 (source)
[xx] Nair-Shalliker V., Armstrong B.K., Fenech M. "Does vitamin D protect against DNA damage?" Mutation Research. 2012 May 1;733(1-2):50-7 (source)
[xxi] Fernandes de Abreu D.A., Eyles D., Féron F. "Vitamin D, a neuro-immunomodulator: implications for neurodegenerative and autoimmune diseases." Psycho-neuroendocrinology. 2009 Dec;34 Supplement 1:S265-77. (source)
[xxii] Ferland G. "Vitamin K and the Nervous System: An Overview of its Actions" Advances in Nutrition, Volume 3, Issue 2, 1 March 2012, Pages 204–212 (source)
[xxiii] Soutif-Veillon A., Ferland G., Rolland Yl, Presse N., Boucher K., Feart C., Annweiler C. "Increased dietary vitamin K intake is associated with less severe subjective memory complaint among older adults." Maturitas. 2016 Nov;93:131-136. (source)
[xxiv] Fontani G., Corradeschi F., Felici A., Alfatti F., Migliorini S., Lodi L. "Cognitive and physiological effects of Omega-3 polyunsaturated fatty acid supplementation in healthy subjects." European Journal of Clinical Investigation. 2005 Nov;35(11):691-9. (source)
[xxv] Narendran R., et. al. "Improved Working Memory but No Effect on Striatal Vesicular Monoamine Transporter Type 2 after Omega-3 Polyunsaturated Fatty Acid Supplementation" PLOS One Oct. 3, 2012 (source)
[xxvi] Stonehouse W., Conlon C.A., Podd J., Hill S.R., Minihane A.M., Haskell C., Kennedy D. "DHA supplementation improved both memory and reaction time in healthy young adults: a randomized controlled trial." American Journal of Clinical Nutrition. 2013 May;97(5):1134-43. (source)
[xxvii] Martins J.G. "EPA but not DHA appears to be responsible for the efficacy of omega-3 long chain polyunsaturated fatty acid supplementation in depression: evidence from a meta-analysis of randomized controlled trials." Journal of the American College of Nutrition. 2009 Oct;28(5):525-42. (source)
[xxviii] Belviranli M., Okudan N. "Well-Known Antioxidants and Newcomers in Sport Nutrition" Antioxidants in Sport Nutrition CRC Press/Taylor & Francis; 2015. (source)
[xxix] Nagaki Y. et. al. "The supplementation e!ect of Astaxanthin on Accommodation and Asthenopia" Journal of Traditional Medicine VOL.22;NO.1;PAGE.41-54(2006) (source)
[xxx] Palacios-Prado N., Chapuis S., Panjkovich A., Fregeac J., Nagy J.I., Bukauskas F.F. "Molecular determinants of magnesium-dependent synaptic plasticity at electrical synapses formed by connexin36." Nature Communications. 2014 Aug 19;5:4667. (source)
[xxxi] Gusev E., Skvortsova V., Dambinova S.A., et al. "Neuroprotective effects of glycine for therapy of acute ischaemic stroke." Cerebrovascular Disease 2000;10:49-60. (source)
[xxxii] Yamadera W., Inagawa K., Chiba S., Bannai M., Takahashi M., Nakayama K. "Glycine ingestion improves subjective sleep quality in human volunteers, correlating with polysomnographic changes" Sleep and Biological Rhythms Vol. 5, Issue 2, April 2007, Pages 126 – 131 (source)
[xxxiii] Song C.H., Jung J.H., Oh J.S., Kim K.S. "Effects of Theanine on the Release of Brain Alpha Wave in Adult Males." Korean Journal of Nutrition 2003 Nov;36(9):918-923. (source)
[xxxiv] Lemoine P., Nir T., Laudon M., Zisapel N. "Prolonged-release melatonin improves sleep quality and morning alertness in insomnia patients aged 55 years and older and has no withdrawal effects." Journal of Sleep Research. 2007 Dec;16(4):372-80. (source)
[xxxv] Tebbey P.W., Buttke T.M. "Molecular basis for the immunosuppressive action of stearic acid on T cells." Immunology1990 Jul; 70(3): 379–386. (source)
[xxxvi] "Re-evaluation of silicon dioxide (E 551) as a food additive" European Food Safety Authority 17 January 2018 (source)
[xxxvii] Dietz C., Dekker M. "Effect of Green Tea Phytochemicals on Mood and Cognition." Current Pharmaceutical Design. 2017;23(19):2876-2905. (source)